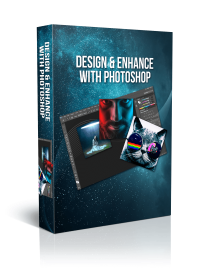 Design and Enhance with Photoshop
2018 December
Subscribers may access:
Video 1 of 2 - 26 min
Video 2 of 2 - 27 min
Here's What You'll Discover Inside This Video Training:
How to get started with Photoshop.
Learn how to get use to the interface and configure your settings.
Learn how to create your first image and which features to select when doing it.
Learn how to work with the settings when editing images.
How to quickly and easily enhance an image.
How to generate images with multiple extension.
How to use the configuration settings and be creative.
And so many more...
Video 1 of 2
1 - Overview
2 - Pricing and Licensing Options
3 - Basic File Types and Options
4 - Working with the Interface
5 - Working with A Basic Canvas
6 - Working with Layers
7 - Working with the Move Tool
8 - Working with Shapes
9 - Working with the Marquee Tool
10 - Working with Colors
Video 2 of 2
11 - Working with the Paintbucket
12 - Working with the Eraser Tool
13 - Working with the Text Tool
14 - Working with Images
15 - Working with Sizing
16 - Working With Transparent Layers
17 - Using the Crop Tool
18 - Working with Layer Styles
19 - Working with Rotation of Images and Layers
20 - Conclusion