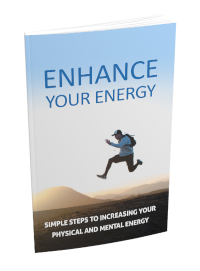 Enhance Your Energy
2018 November
Subscribers may access:
45 page eBook
Simple steps to increasing your physical and mental energy.
Here's what you'll discover when you take the first step and read this powerful guide for enhancing your energy:
Learn what kinds of fatigue you can suffer from, and the common conditions that could be contributing to your lack of energy.
Learn how to change your diet and eating habits to tackle fatigue and find more energy.
Discover the most common bad habits that could be contributing to your exhaustion and what you need to do to change them.
Learn why having an organized life is so important to enhancing your energy and eliminating fatigue.
Find out how to avoid stress, a common contributor to over exhaustion and fatigue.
And much more!