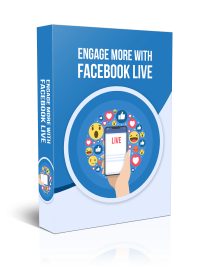 Engage More with Facebook Live
2018 December
Subscribers may access:
Video 1 of 2 - 20 min
Video 2 of 2 - 17 min
Here's What You'll Discover Inside This Video Training:
How to get started with Facebook Live.
Learn how to get use to the interface and configure your settings.
Learn how to create your first broadcast and which features to select when doing it.
Learn how to work with the settings when broadcasting.
How to quickly and easily schedule your live event.
How to generate your link so you can invite people to your schedule event.
How to use the configuration settings and organize your ideas properly before going live.
And so many more...
2 Video Modules
01 - Overview
02 - Mobile Equipment Needed
03 - Mobile Equipment Not Needed But Useful
04 - Desktop Equipment Needed
05 - Desktop Equipment Not Needed But Helpful
06 - Sharing Your Screen on Facebook Live
07 - Sharing Your Cam On Facebook Live
08 - Going Live on Your Personal Profile
09 - Going Live Into a Group
10 - Going Live on Your Page
11 - Go Live From Your Mobile Device
12 - Downloading Your Video
13 - Using the Facebook Creator Studio
14 - FB Creator Content Studio Library
15 - FB Creator Studio Insights
16 - FB Live Monetization
17 - FB Creator Launchpad
18 - FB Creator - Rights Manager
19 - FB Creator Sudio Preferences
20 - Conclusion - Go Live On Pages and In Groups Simultaneously